Project Budget Tracking
Project budget tracking, as well as billing management and the establishment of baselines, are simple using an online project management module in TrackerSuite.Net.
Budgets can be categorized in Labor, Non-Labor and Income fields, and can be defined in time, capital, non-capital and income. Billing can be defined by type and rate. In addition, baselines may be set.
Budgets can also be established at the task level. As tasks are created and resources are scheduled, cost rates are applied against the planned hours.
Streamlining Proposal Creation
When the budget is finalized and the WBS completed, a request email is sent to designated approvers, with the tasks, hours and costs embedded, for swift review and approval.
Simplifying Management
Once the project is approved, and the initiative moves forward, this module simplifies the monitoring of commitments. By clicking a link, the user can open a Cost Reports that breaks down expenditures against account categories. Actual costs are calculated from processed timesheets, expense reports and purchase orders.
The cost rate of resources are profiled in online employee files in Personnel Tracker.Net, a personnel management software solution. However, these cost rates can also be modified within the task document. Using Time Tracker.Net, team members charge time against these tasks with Web timesheets.
Likewise, using Expense Tracker.Net and Purchase Tracker.Net, teams can submit online expense reports and purchase orders, charged against their tasks.
By tying timesheets, expense reports and purchase orders to project and task account codes,, the accounting of project finances is greatly simplified.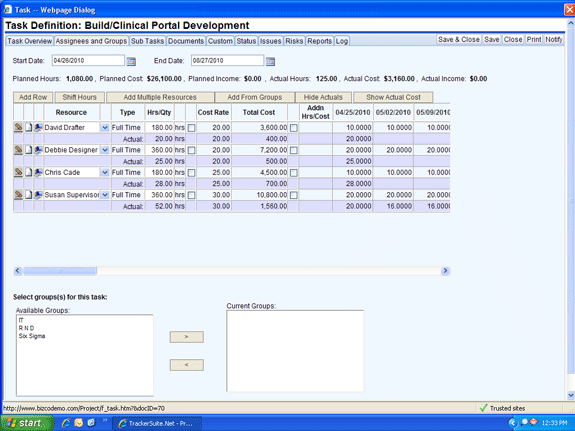 Dashboards, Allocation Reports and More
TrackerSuite.Net also improves resource pool visibility, as well as provides a central online hub for teams for updating task statues and reviewing files and documents. TrackerSuite.Net serves configurable dashboards that empower users with the information and tools they need on an individual basis.
TrackerSuite.Net also provides other modules that simplify other organizational processes including support services, payment requests,asset management, purchasing and more.